Esta línea de celdas de soldadura fue desarrollada para ofrecer al cliente una solución personalizada cuando ninguna de las celdas estándar satisface sus necesidades. Custom-cell puede ser completamente personalizado para adaptarse a las características del producto a soldar. La dimensión de la celda, el número, el tamaño y el tipo de mesas, los dispositivos de posicionamiento, los modelos de aberturas, entre otras características se pueden personalizar para adaptarse al tipo de pieza o soldadura a realizar. En esta página puede ver algunos ejemplos de personalizaciones posibles. Consulte a nuestro equipo de ventas y obtenga más información sobre la línea Custom-cell de Sumig.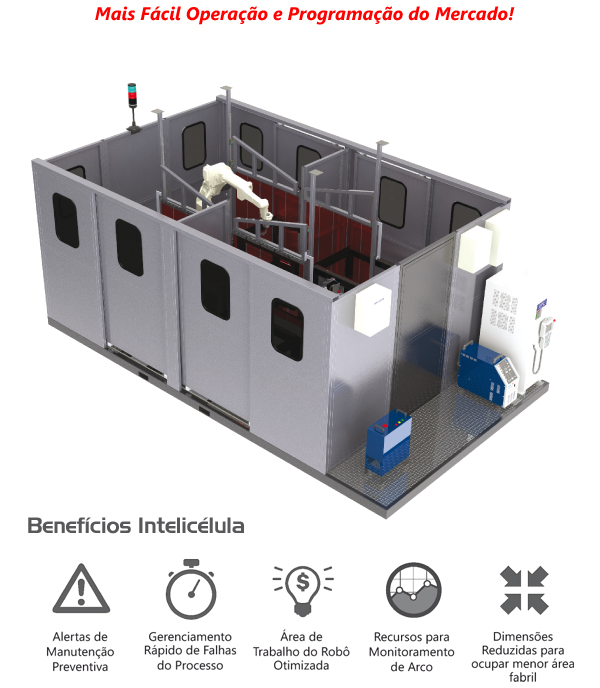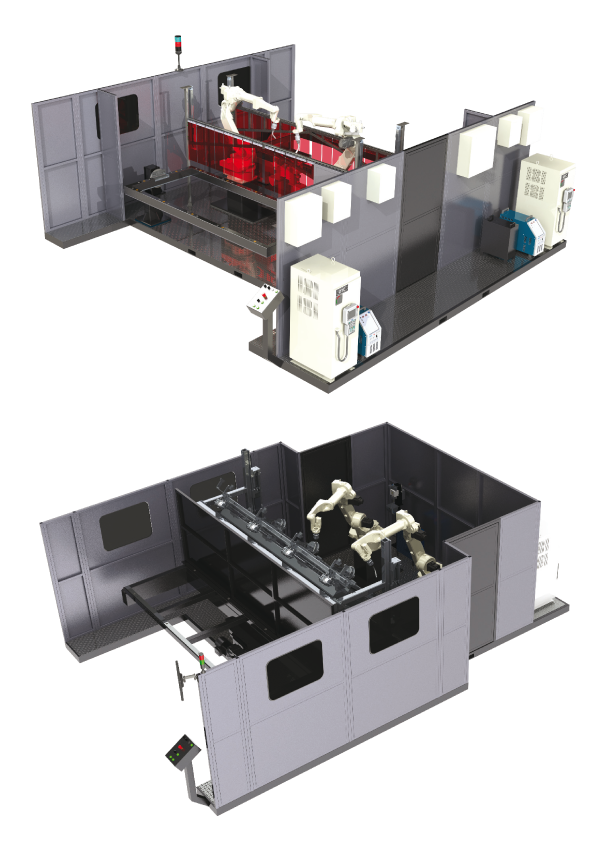 Celda ecológica, totalmente preparada para operar integrada a un sistema de aspiración de humos de soldadura.
El Centro de Inteligencia Sumig concentra el comando y la gestión de todos los recursos de la celda.
Gestión de Procesos de Producción
A través de IRIS puede gestionar usuarios, recursos, registros y resultados, estado y parámetros del proceso de producción.
Operación fácil
Interfaz amigable e intuitiva, con características simples y lógicas.
Mayor ergonomía y seguridad
Completamente de acuerdo a las normativas NR12 y NR17.
Agilidad en el intercambio de piezas
Puertas más grandes que facilitan el acceso de piezas por grúas y cabrestantes.
Eco friendly
Celdaecológica, totalmente preparada para operar integrada a un sistema de aspiración de humos de soldadura.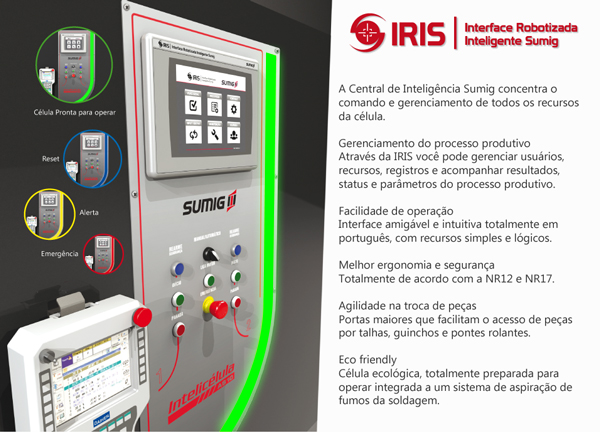 Panel Touch Intuitivo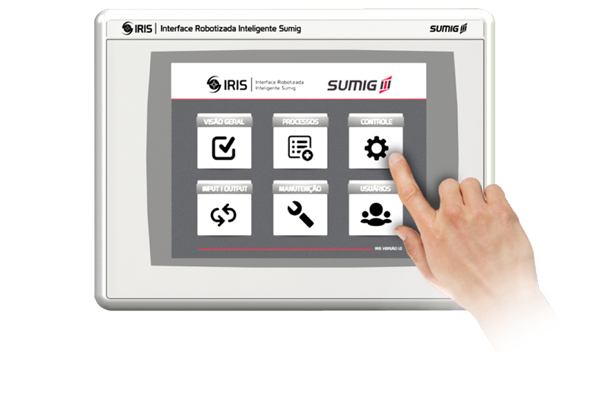 The equipment allows to connect with the Intelisolda Portal: http://www.intelisolda.com/
The Intelisolda Portal is a web platform that can be accessed by any device connected to the internet. It is possible to access all the information related to the welding process in real time.
Remote Management: Allows you to manage factory, sectors, equipment and welders through internet access.
Registration and Control: Monitoring the efficiency and productivity of each welder or equipment.
Performance and Cost Reports: The system provides a number of reports, such as open arc time, process failures, and data on the actual cost of each weld.
Traceability: It is possible to identify the weld history (operator identity and parameters used) through scientific graphics.
The information is stored on a fully secure and reliable server.