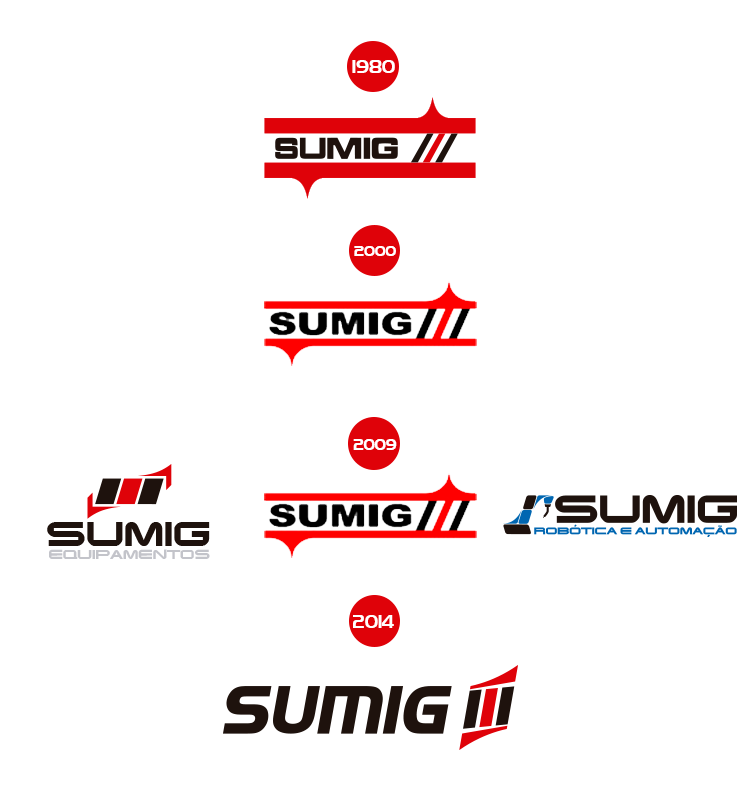 Since 1980, Sumig has been working to overcome technological and quality boundaries. New product divisions were created to follow the company's growth and meet the needs of its customers. Thinking of creating an unique visual identity, Sumig decided to create a new brand to unify its three main divisions: Torches, Equipment and Robotics.
The new Sumig brand appears reinforcing its three main pillars through a new symbol. These pillars represent the quality of its products, the agility in the service and the commitment with its customers. The upward arrow represents the constant search for innovation and the downward arrow is the tradition of the company.
Through this new brand, Sumig seeks to demonstrate its commitment to evolution, not forgetting its roots.
The Beginning ... With much effort and work, Gemir Susin starts on September 18, at the back of his residence, the production of spare parts for the market. The space had an area of ​​150m².
MIG guns - Launch of the first MIG gun, with policable system.
Expansion - In its new headquarters, with an area of ​​890m2, Sumig already supplies MIG and TIG torches, as well as spare parts.
Equipment - Sumig starts the sale of welding and cutting equipment.
Exports - Beginning of products exports to Mercosul.
Structure - In 2001 Sumig expanded its structure incorporating a new space, totaling 2,000m² of constructed area, built on the place where the residence of Mr. Gemir Susin was located.
Growth - With a strong growth and need for expansion of its area, Sumig acquires a neighboring land and incorporates more 2,000 m².

On this year, Sumig launches its first welding robot torch, the unique manufactured in Brazil.
Quality Management - Sumig implements its Quality Management System, based on ISO 9001/2000 and certified by BVQI.
Robotics and Automation - The company projects greater growth and acquisition of new area to expand its manufacturing facilities, starting the robotics and automation division.
São Paulo Branch - Branch Office opened in the city of Indaiatuba - SP
US subsidiary - Beginning of operations in the North American market.
Internationalization - Expansion of exports to other continents. Sumig products and brand are already present in countries such as the United States, Canada, Mexico, China, Australia and South Africa.
Sumig Today - Ever-growing, Sumig is expanding its robotics and automation industry, as well as new training, auditorium and administrative space for a total area of 12,000m².
Training Center - Sumig renovates and expands training centers, providing two classroom spaces and practice in robotic and manual welding.entro de Treinamento.
Customer Space - Sumig modernizes and expands its structure to better receive its customers and partners, creating the Customer Space, on the 3rd floor of the headquarters, in Caxias do Sul.
Brazillian Fabrication - Launch of the first intelligent welding machine manufactured in Brazil.